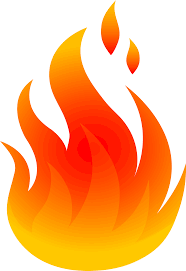 Open burning is allowed by permit only, and shall be issued by the Village of Holly subject to the rules of this article.
No burning shall be permitted within 50′ of any structure. Authorized containers shall be 15′ from any structure.
No burning on or along roadways.
No flammable liquids shall be permitted to ignite the fire. (ie. Gasoline, Kerosene, Starter Fluid, etc.)
Fire must be attended at all times by someone with the capabilities of extinguishing the fire.
The size of the burn area shall be no larger than 3′ in diameter.
Burning violations may be subject to fines in accordance with Civil Infraction Citation penalties. First offense will be $50.00, second offense $100.00, third offense $250.00, fourth offense $500.00, all subsequent offenses $500.
Fires at night may be permitted with special permission for the day the fire is desired.
REMEMBER, burning is a privilege that may be revoked at any time. It shall be the option of the fire official to dictate the right to burn.
What can I burn?
Untreated Lumber
Seasoned Firewood
What Cannot Be Burned?
RUBBER
RUBBER TIRES
TAR PAPER
RAILROAD TIES
BRUSH
LEAVES
CREOSOTE
IMPREGNATED MATERIALS
BUILDING MATERIALS (EXCEPT UNTREATED WOOD)
Refuse, paper, waste material or other combustible materials shall be burned in containers of metal or masonry construction which may contain openings no larger than one inch in width on the sides and top during the burning process. Access doors for loading or cleaning shall be kept closed during the burning process.
Online Burn Permit Form
After filling out the form, it may take several minutes for the submission to complete. Please do not resubmit, hit "back" on your browser, or close your browser until you receive your confirmation message.
ONLY ONE BURN PERMIT IS REQUIRED PER YEAR. YOU DO NOT NEED TO SUBMIT A BURN PERMIT EACH TIME YOU WISH TO BURN.