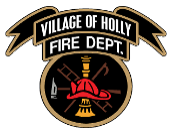 Due to continued growth, the Village of Holly Fire Department is currently accepting applications for Firefighter/EMT & Firefighter/Paramedic.
This part time position responds to alarms and requests for service, acts in emergencies such as storms, medical emergencies, extinguishment of fires, and performs service work as directed. You will work under the supervision of the Fire Chief and/or their designee.
Minimum Qualifications:
The following are the minimum qualifications for this position. Applicants must have these qualifications to be considered a qualified applicant:
• High School Diploma or equivalent
• At least 18 years of age
• Must possess Michigan Firefighters Training council Firefighter I&II Certification
• Must possess a valid State of Michigan EMT or Paramedic license at time of appointment
For your application to be considered qualified you must attach an electronic copy of the valid and current license/certifications listed above to your application in addition to providing support for the other minimum requirements in your application. If you will not have the certification until appointment, this will be required prior to beginning work.
Please click the button below to download the application. Once filled out, please forward the application and copies of your certifications & licenses to employment@hollyfiredepartment.org.